Plastic road signs in Surrey to deter metal thieves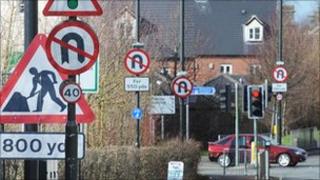 Plastic road signs are to replace aluminium signs stolen in Surrey in an attempt to deter scrap metal thieves.
Surrey County Council (SCC) said 16 signs with street names, chevrons and turnings had vanished in recent weeks.
They will be replaced by polycarbonate plastic versions which have no sell-on value. About 40 metal drain and manhole covers have also been stolen.
The council said the total cost of replacing the covers and signs would be about £16,000.
'Highway robbery'
The items have been stolen from Woking, Egham, Chertsey, Camberley, Dorking, Capel and Headley.
Councillor Ian Lake, the cabinet member for transport, said: "This highway robbery is stupid beyond belief.
"These signs and manhole covers are put there for people's safety and to steal them for the sake of a few pounds is reckless and irresponsible.
"Money is tight at the council and we shouldn't have to be paying out taxpayers cash to make up for the actions of a few idiots.
"This money would be much better spent filling in potholes or on making safety improvements."