Surrey charity appeals to halt animal shootings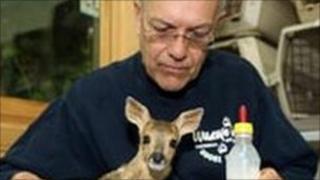 A Surrey wildlife campaigner has appealed to air gun users not to aim at animals after a series of shootings of squirrels, foxes, owls and swans.
Simon Cowell, who runs the Leatherhead charity Wildlife Aid, said his team was often called out to save animals with injuries from air rifles and pistols.
The latest incident involved a squirrel found injured in a Dorking street.
"We had to put the poor creature to sleep as there was nothing we could do for it," said Mr Cowell.
"The squirrel was dragging itself along and had no feeling from the waist down.
"There was an air-rifle pellet lodged in its back and the animal's spine was completely shattered.
"This is the sort of thing that happens a lot when irresponsible and idiotic people decide to use animals for target practice in their gardens."
Fire randomly
Wildlife Aid said shooting and wounding a wild animal with an air-gun, even an animal that some people might consider a pest, caused it prolonged and unnecessary suffering and was contrary to the Wildlife and Countryside Act 1981.
"Ownership and use of these weapons is perfectly legal but what is neither legal nor morally acceptable is to go around firing them randomly at animals," said Mr Cowell, who also presents the Animal Planet TV show Wildlife SOS.
"Culling, when done at all, must be carried out by skilled professional marksmen, not trigger-happy amateurs.
"The person who shot this poor squirrel in Dorking, and others who fire their air-guns at animals, are just irresponsible hooligans.
"That message needs to go out loud and clear."