Surrey County Council to spend £12m on roads amid cuts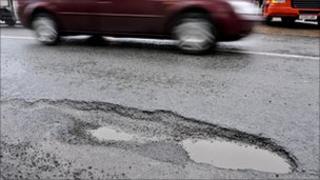 Plans to spend an extra £12m on roads and £5m on vulnerable children have been set out by Surrey County Council after it announced 650 jobs would go.
The council announced the job cuts as part of budget proposals that will be considered by the cabinet on Tuesday.
Council tax is to be frozen for the first time in the council's history.
Deputy council leader David Hodge said the quality of roads was a prime concern and supporting vulnerable children was a priority.
He said extra funding had been found to ensure these services were maintained.
After the job cuts were announced on Monday, the GMB union said it was clear the loss of posts would have an adverse impact on frontline services.
Industrial action
Mr Hodge said: "Across the council there will be changes to the way services are delivered to truly provide value for money.
"Unfortunately, there will be some redundancies but thanks to careful planning and preparation we will keep these to a minimum."
He said council tax would be frozen because the council understood people were suffering financially.
Over four years, the council will see up to 650 jobs cut, with 250 to go in the next financial year. Mr Hodge said the council would retrain and redeploy staff wherever possible to minimise redundancies.
After the job cuts were announced, GMB officer Paul Maloney said: "It is clear that these job cuts will have an adverse impact on frontline services for the most vulnerable in the county."
Chris Leary, from the public sector union Unison, said when the public lost services such as mobile libraries, qualified staff to care for vulnerable adults and youth services, the people of Surrey would not "just stand idly by and let the politicians decimate services".
He said: "We will defend our members' jobs and support them in whatever action they choose to take, including lawful industrial action."