Reigate Heath plans shows restoration sites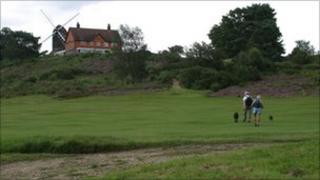 A plan for managing a Surrey beauty spot over the next five years has been drawn up after more than 90 people responded to a public consultation.
The management plan for Reigate Heath identifies areas where heathland will be restored, including tree felling.
Natural England has awarded the site, managed by Reigate and Banstead Council, a grant to help the restoration over the next 10 years.
Reigate Heath is a Site of Special Scientific Interest.
The consultation, carried out last summer, included open meetings and exhibitions.
The majority of people who attended were regular users of the heath, the council said.
The management plan for 2011 to 2016 is a revision of the existing plan, which ran until the end of 2010.
"On the whole, the community are happy with the way we are managing the Heath," said Councillor Julian Ellacott.
"It will continue to be a valuable site for the community and using this plan and working with others we will be ensuring it stays this way for the future."
The council said the new plan would be published on its website by the end of February.