Motorway in Surrey shut for new speed limit work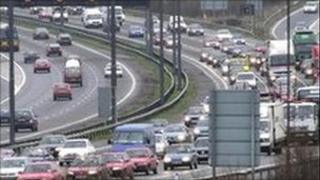 Work to extend variable speed limits on the M25 in Surrey is getting under way with the closure of the motorway in both directions overnight on Saturday.
The Highways Agency said the closure, between junction nine at Leatherhead and junction 10 for the A3, was one of a series taking place until mid-April.
It will allow the installation of eight new gantries over the motorway.
Four others will be removed and four updated as part of a project to extend the M25 controlled motorway system.
The system, which uses traffic sensors to calculate optimum speed limits to keep traffic moving, is already in place between junctions 10 and 16.
The changing speed limits are displayed on overhead gantries.
Speed cameras have already been installed on a 2.7-mile (4.3km) stretch of the motorway close to junction 10 at Wisley.
Traffic was diverted while the M25 was closed between 2200 GMT on Saturday and 0600 GMT on Sunday.
Further closures are planned for each Saturday night until the project is completed.
The Highways Agency said the work was weather dependent. If it could not take place on Saturday nights, the road would be closed the following Wednesday instead.