New £26m Guildford venue name chosen by public passed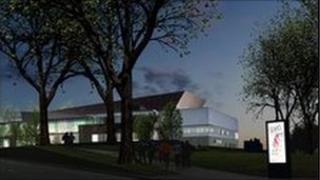 A name for an new multi-million pound entertainment venue in Guildford that was suggested by members of the public has been approved by councillors.
G Live, which will host music, comedy and family shows, will open in the autumn.
The borough council approved the £26m venue's "forward looking name" at a meeting on Thursday.
The centre will include a 1,700-capacity auditorium, a 150-capacity studio theatre and conference rooms.
It is being built on the site of the old Civic, which has been empty since 2004.
Derek Nicholls, of HQ Theatres which will run G Live, said: "We are resolute that the new entertainment venue should be a place where everyone from Guildford and its region will feel at home, and will find something in the top-quality programme to please and delight them.
"So it is important that the name should be direct and dynamic, and speak to everyone. I think that G Live says it all."