Surrey potholes 'being repaired every 10 minutes'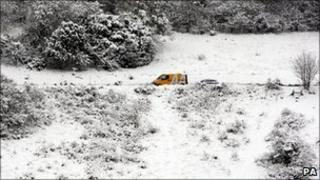 Potholes across Surrey have been repaired at a rate of about one every 10 minutes since the new year, the county council has revealed.
It said highway crews had dealt with 3,500 potholes following damage caused by severe winter weather.
Surrey County Council said crews were sent out as soon as the weather abated to inspect roads and identify which areas were most in need of repair.
Twenty-six highway crews were out filling potholes each day, it added.
Councillor Ian Lake said: "We can't repair all the potholes immediately but we are working as hard as we can to make sure we fix them as quickly as possible."
He urged residents to report any potholes they came across to help speed up the repair process.