Spending cuts may halt cycle final for Woking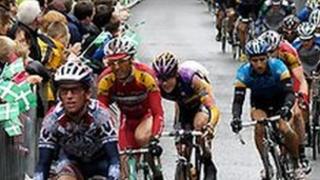 A Surrey town may have to turn down the chance to host the final of the Tour Series cycling event because of spending cuts, a council has said.
Woking attracted 15,000 spectators for the final in June 2010 and hosted one of the 10 legs of the event in 2009.
The borough council said it cannot provide the £50,000 funding needed and has appealed for business sponsorship.
Louise Punter, of Surrey Chambers of Commerce, said businesses would also find it difficult to fund the event.
The Tour Series is a calendar of professional cycle races, launched in 2009, held on town and city centre circuits across the UK.
Woking Borough Council chief executive Ray Morgan said that a business appraisal after the 2010 event showed a £400,000 net benefit to the town.
"The council really wants this event to take place," he said.
"But in these difficult times it would find it difficult to put that type of money into it while there are severe limitations on public spending."
The event is organised by SweetSpot, based in Weybridge.
"Last year it got a huge crowd and created a great celebration of cycling," said spokesman Hugh Roberts.
"It is not just the main event, but it is also about trying to encourage people to ride bikes for recreation and to get to school and work."
Ms Punter said there was no doubt the Tour Series was a "fantastic event".
"It is a good idea but I think that there isn't that extra money in businesses to spend on additional activities," she said.
"It needs to be sponsored by somebody who is going to benefit in getting their name out to a wider audience than Woking."