Shepperton eco park plan 'inappropriate' for greenbelt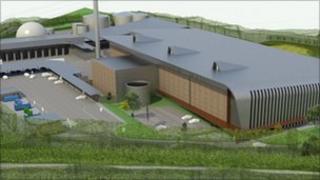 Plans to extend a waste recycling facility in Shepperton are inappropriate for a greenbelt site, a report by Spelthorne council has said.
The report has recommended Spelthorne borough councillors object to the plans put forward by SITA Surrey on behalf of Surrey County Council.
Spelthorne planning committee will consider the plans on Wednesday.
SITA Surrey, which used to be known as Surrey Waste Management, said the plant would divert waste from landfill.
A spokesman said: "We spent several months consulting before we submitted our planning application for the eco park at Charlton Lane.
"If it receives planning permission the eco park will help to divert as much waste as possible from landfill and will produce renewable energy from the waste that cannot be recycled."
Surrey County Council said it was unable to comment because it could not pre-empt a planning decision.
Pollution fears
The report by Spelthorne council said there were "no very special circumstances" to allow the development in the greenbelt.
It said the scheme went beyond the boundary of the site in Charlton Lane and would have an adverse impact on the wider area because of the loss of landscaping.
Officers also said the height and design of the facility was inappropriate.
The facility would be used to heat waste to produce gas for energy and process about 60,000 tonnes of household waste every year.
In October, Surrey County Council revised the plans to add seven more acres of landscaped grassland to the designs, bringing the total planned landscaped area to 13 acres.
The local authority said it wanted people to use the green spaces to relax and enjoy themselves.
But the proposals had led to fears about traffic and pollution - a petition against the plans signed by 1,600 people was handed in last year.