Peacock dies after catapult shots in Godstone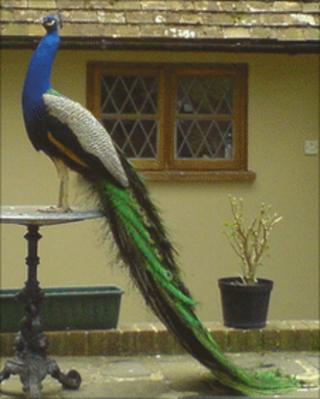 A pet peacock found dead at a property in Surrey is believed to have been stoned with shots from a catapult.
The seven-year-old bird called Bill, who was one of a pair with his brother Ben, was found dead by his owner Juan Sanchez in Bulbeggars Lane, Godstone.
Mr Sanchez believes the peacock was hit while roosting in a tree.
"I have 10 peacocks but Bill and Ben were the first two and the only ones I ever named. Whoever did this could have injured my children," he said.
The incident happened on the night of 13 January or early the next morning.
Mr Sanchez initially thought Bill had died of natural causes, but found stones under the tree where the body was found.
'Reckless and irresponsible'
Similar stones were found near two cars parked on his driveway, which had smashed windows and dented bodywork.
"This would appear to have been caused as a result of stones fired from a catapult or similar device," said PCSO Philip Howells.
"I cannot stress how reckless and irresponsible it is to project an object in this way which could potentially endanger lives."
Surrey Police said the bird's death was the latest in a series of catapult incidents in the area.
In December, a 73-year-old woman fell down two stairs and cut her lip after an object believed to have been fired from a catapult came in through her living room window in Godstone High Street.