New £32m Thames bridge at Walton a 'vital landmark'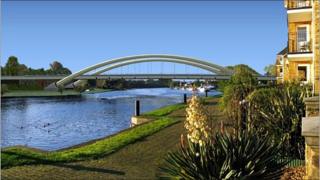 The first road crossing to be built over the River Thames in 20 years has been described as a "landmark for generations of Surrey residents".
The new £32.3m Walton Bridge in Surrey is expected to be completed by the summer of 2013.
The structure, which has been designed by Epsom-based firm Atkins, will replace two "temporary" bridges connecting Walton and Shepperton.
Surrey County Council said the "landmark" bridge was vital.
Work on the structure is expected to begin by the end of January.
'Future prosperity'
Surrey councillor Ian Lake said: "The new Walton bridge will be a landmark for generations of Surrey residents so we had to make sure it was right and we're delighted a local company came up with the right design.
"Good transport links are vital to Surrey's economy growth so by investing in projects like Walton Bridge we are investing in the county's future prosperity."
The council said the designers were involved in the creation of Dubai's Burj Al Arab seven-star hotel and Cardiff's Millennium Stadium.
In December the Department of Transport agree to invest £23.8 into the project with the rest of the money coming from Surrey County Council.
The scheme was approved in 2008 by the previous government but put on hold as part of the coalition's spending review.