Woman 'could help' Epsom sex assault probe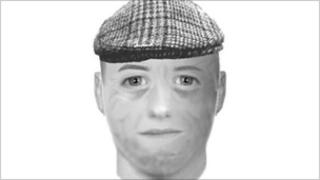 Police investigating a sex assault on a woman in Surrey are anxious to trace another woman who was in the area.
The distressed woman knocked on a door in Whitmores Close, Epsom, shortly after an assault on a 21-year-old woman took place in West Hill.
The woman they want to trace is in her late 20s to early 30s with pale skin, dark hair and a Newcastle accent.
Detectives believe she may have information about the sex assault in the early hours of New Year's Eve.
But they said there was nothing at this stage to suggest she had been a victim of a crime.
Police have issued an e-fit of a man they want to question about the assault on the 21-year-old woman. He is described as white, between 6ft 1in and 6ft 3in tall, of medium build and aged 45 or over.
He was gaunt, with facial stubble and was wearing a dark padded jacket with yellow or orange markings and a flat cap. He spoke with a London accent.
"The victim was understandably left very shaken by the incident and I am urging people to look closely at the picture and give me a call if they believe they have information which could help our investigation," said Det Con Tracy Maclean.
"The suspect was wearing a distinctive jacket and cap - do you remember seeing someone wearing this combination of clothes in the area?"
Police said the assault had similarities with another incident earlier the same evening in Chantilly Way.
Two teenage girls reported that they were followed by a man wearing dark clothing.