Surrey NHS sees 'dramatic' rise in fractures after snow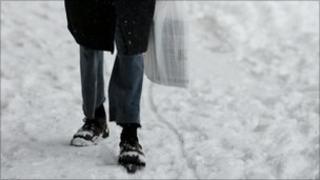 Work to tackle a "dramatic" rise in fractures has continued after the icy weather, a Surrey NHS trust has said.
Ashford and St Peter's NHS trust dealt with 58 more trauma operations in December than in November as a result of falls during snow and ice.
The health trust is still seeing the after-effects as patients return for follow-up checks and further treatment.
Nurse practitioner Hazel Watters said the weather always affected workload but this year had been "exceptional".
Statistics showed that in December the trust dealt with an increase of more than 62% in fracture cases in a month.
Sister Ann Fletcher said: "Our fracture clinic is always much busier in the winter, but the recent snow and ice really tipped the scales."
She said the fracture clinic had seen 115 people last week, when it would normally expect about 70.