Dog amputee gets new ankle implant from Godalming vet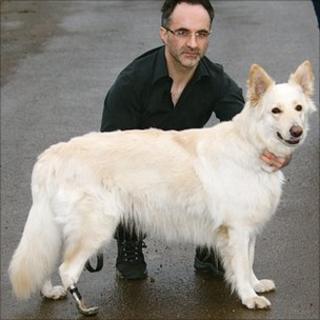 A German shepherd dog whose foot was amputated has been fitted with a prosthetic ankle by a Surrey vet using a pioneering procedure.
Dr Noel Fitzpatrick, from Godalming, used a titanium implant on Mitzi after her foot was crushed by a horse.
The neuro-orthopaedic surgeon said she was the first dog in the world to be fitted with such a prosthesis.
The titanium rod was implanted in her bone leaving a peg for an artificial foot to be screwed on to.
The technology was developed for dogs by Professor Gordon Blunt at University College London in association with Dr Fitzpatrick.
The three and half-year old animal was trampled on by a horse in October last year, which cut off all blood and nerve supply to her foot.
Undergoing the procedure means she will now be able to walk with a normal gait.