Guildford councillors refuse Friary Centre revamp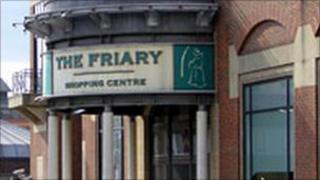 Plans to refurbish part of a shopping centre in Surrey and create additional retail space have been refused by Guildford Borough Council.
The proposals for the Friary Centre also included reconfiguring existing units, relocating glass lifts and filling in an open atrium.
Councillors blocked them on the basis of the impact they would have on the atrium and the open feel of the centre.
Joint owners Westfield and Hermes said they were disappointed at the decision.
'Cramped and claustrophobic'
Guildford councillors had been advised to approve the Friary Centre plans even though objections had been received.
A report prepared for the planning committee meeting said the refurbishment was in line with the borough's local plan.
But Councillor Keith Taylor, chair of the planning committee, said: "Some councillors were concerned that the loss of the atrium space, combined with the loss of smaller shop units would result in unnecessarily cramped and claustrophobic space next to the existing escalators.
"Other councillors felt that larger units would attract larger retailers to the Friary Centre and that in the current economic climate the application was understandable. After debate, the application was refused."