Guildford councillors consider Friary Centre revamp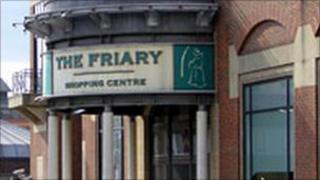 Plans to refurbish part of a shopping centre in Surrey and create additional retail space are to be considered.
Guildford councillors have been advised to approve the Friary Centre plans even though objections have been received.
The proposals include creating more retail floor space, reconfiguring existing units, relocating glass lifts and filling in an open atrium.
The council said the plans from centre owner Westfield had been assessed and there was no reason to refuse them.
'Jobs boost'
The Guildford Society objected to the plans and said the loss of the atrium would lead to an "unpleasant and claustrophobic" atmosphere and the creation of a food court would prevent light reaching lower levels.
The Holy Trinity Amenity Society also objected to the loss of the atrium as the focal point of the building, but predicted a jobs boost of 20% and a similar increase in customers.
Nine other objections supported the criticisms made by the Guildford Society.
A report prepared for the planning committee meeting on Tuesday said: "Whilst the concerns of the consultees in respect of the atrium are understood, in planning terms there is no justification to resist its loss."
It said the refurbishment was in line with the borough's local plan and the proposals should be approved.