Celebrations in Guildford as Bible turns 400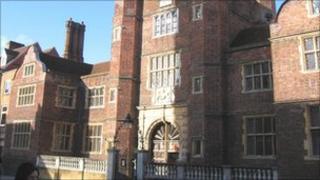 A series of events have been planned to mark the 400th anniversary of the King James Bible in the Surrey town where one of its translators lived.
Guildford's George Abbot worked on the version of the Bible, which was published in 1611.
Abbot, who became Archbishop of Canterbury in 1610, also founded Abbot's Hospital in Guildford High Street.
Events will take place throughout the year to mark the anniversary.
'Unparalleled impact'
Abbot's Hospital will be hosting tours and lectures, the Guildford Institute plans to run a course exploring his life and legacy, while Guildford Museum plans to hold an exhibition detailing his achievements.
Marion Peters, the hospital's business manager, said the King James Bible had had an "unparalleled impact on British history, language and literature."
Abbot founded the Jacobean Hospital of the Blessed Trinity in Guildford in 1619, which was for the elderly poor of the town.
He is one of the most famous residents in the town's history and is buried at the Holy Trinity Church, opposite the hospital.