Mole Valley recycling backlog after collections missed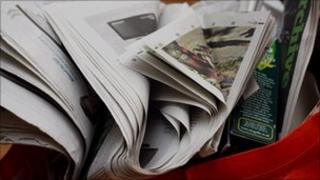 Recycling collections are being rescheduled in Surrey after snow and ice disrupted services.
Mole Valley council said there had been problems getting refuse vehicles on the road and some people had not had collections for four weeks.
It said its contractors, Biffa, had ensured staff now had spiked shoes and could walk safely in icy conditions.
Two extra vehicles have been deployed, but the council said the quantity of recycling to be removed was very high.
Residents who have not received collections will be visited as soon as possible, the council said.
But the temporary rescheduling may mean that other residents who normally have end-of-week collections will miss out, it added.
Heavy vehicles
Councillor Chris Reynolds, environment holder, said: "We are really sorry about the level of disruption to waste and recycling collections caused by the ice and snow which has been beyond our control.
"Please be assured that if the council misses a collection, we will always be prepared to take additional waste at the next scheduled collection. Just leave it out with your bin."
The local authority said heavy refuse vehicles needed a lot of grip on the roads to ensure they could be handled safely.
During December, there had been times when it was not safe for those vehicles to go out on the roads, the council added.
It also said snow fell in the early part of the week on two occasions, and residents who were due to have their recycling collected on Mondays, Tuesdays and Wednesdays were the hardest hit.