Elvis Presley's Mercedes-Benz auctioned in Surrey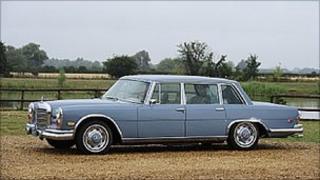 A car that once belonged to Elvis Presley and is said to be one of a handful of cars he registered in his name has been auctioned in Surrey.
The Mercedes-Benz 600 was sold for £80,700, Bonhams auctioneers said.
Presley kept the car for two years before giving it to a friend, Bonhams said. The car was later sold.
The auction was held at Mercedes-Benz World at the Brooklands racing circuit, also home to the Brooklands motoring museum, near Weybridge.
Bonhams said the car, one of two Mercedes 600 cars owned by Presley, had been restored to a very high standard.
Presley gave the car to his friend James Leroy Robertson.
The person who was selling the car, who has not been named, bought it from Robertson Motors Memphis in 2005 and had it exported to the UK.