Thieves steal cars being de-iced on Surrey driveways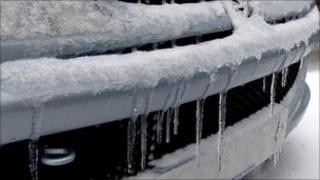 Two more cars left unattended and with their engines running while they de-iced have been stolen from driveways in Surrey.
A Toyota Rav4 was stolen from a property in Bridge Road, Chertsey, at about 0805 GMT on Wednesday.
A VW Polo, which was later recovered, was stolen in Pond Close, Walton-on-Thames, at about 1000 GMT on Thursday.
Surrey Police warned that insurance companies would not pay out if vehicles had been left unlocked and unattended.
'Secure vehicles'
Elmbridge crime reduction adviser Mark Howells said: "At this time of year it may seem tempting to start your car to warm it up or de-ice the windows and leave it parked on the driveway.
"But it only takes a few seconds for a thief to jump into your car and drive away.
"Our advice is always ensure your vehicle is secure at all times, always take your keys with you even if you are leaving your vehicle for a matter of minutes and never leave your vehicle unattended with the engine running."
On Monday morning, two cars were stolen in similar circumstances in Banstead and Caterham.