Snow and ice leads to warnings to avoid M25 in Surrey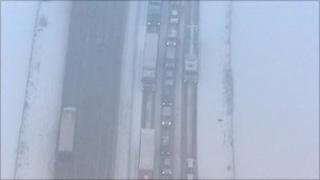 Motorists have been urged to only make essential journeys as freezing conditions continue in the county.
Surrey Police said traffic was now flowing on the M25 but conditions remained "treacherous".
The Met Office is warning that up to 10cm could fall in Surrey on Wednesday evening and into Thursday
Supt Chris Moon said the conditions were among the worst he had seen and the mix of freezing temperatures and heavy snow had caused gridlock.
Some roads in Leatherhead and Reigate including the A22 and the A217 were "extremely icy" and should be avoided, police said.
More than 100 schools have been closed across the county and rail and bus services have been disrupted.
Surrey and Sussex Healthcare NHS Trust said services and access to East Surrey Hospital at Redhill were restricted, and warned people only to go there if absolutely necessary.
A spokeswoman said patients with minor illness or injuries should contact their GPs or NHS Direct.
Weather 'exceptional'
Up to 400 lorries became stranded overnight on the M25 due to heavy snow in what Mr Moon said was the most challenging night for many years.
"The weather conditions have been exceptional and I think it's the level of snow with the very cold temperatures [that] have just made the roads absolutely treacherous," he said.
The M3 southbound was closed at 0530 GMT following the discovery of a body on the carriageway near Bridge Lane, Lyne, near junction three.
The closure caused traffic to build up between junctions two and three but police said the road was being reopened at about 1100 GMT.
One motorist told BBC Surrey it had taken her more than eight hours to travel from Guildford to Epsom Downs.
Sonali Whitlock said: "We are a developed nation, yet when we have snowfall, it all falls apart."
More than 100 schools were closed or partly closed on Wednesday morning.
Catherham Valley, Lingfield and Oxted libraries were also shut.
Southern Railway said services had not run between Redhill and Reigate and Redhill and Tonbridge in Kent due to signalling problems.
Up to 40 households in the Headley Park area, near Boxhill, were without power supplies from 1900 GMT on Tuesday until 0930 GMT on Wednesday.
UK Power Networks said repairs to an overhead cable were hampered by road closures.
BBC South East Today's weather forecaster Kaye Forster said: "It's set to get a lot worse before it gets better."
She said a further 10cm (4in) of snow was possible overnight with freezing temperatures making the conditions on the roads "horrendous".
By Thursday, some areas could see up to 25cm (10in) of snow, with temperatures hovering around freezing.