Assaults on hospital staff in Surrey increase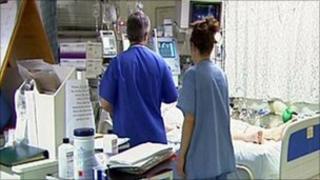 The number of staff physically assaulted or abused by patients at an NHS trust on the Surrey/London border has risen by a third in 12 months.
The Epsom and St Helier University Hospitals Trust recorded 275 incidences of violence and aggression in 2009/10 compared to 208 the previous year.
The figure includes 104 physical assaults against doctors and nurses, a rise from 78 the previous year.
Chief executive Samantha Jones said she read the figures "with a heavy heart".
Michael Burden, the trust's director of human resources, said: "We have seen an increase and that is a concern.
'Verbal abuse'
"Some of that increase may well be that staff our reporting the actions to us.
"Some of it is that people are frightened when they are in hospital and we understand that.
"Yet at the same time treating our staff with disrespect and particularly violence is completely unacceptable."
Penny Parrot, a senior sister at the trust's Accident and Emergency ward in Epsom, was punched in the stomach by a patient while 24 weeks pregnant. Her baby was unharmed.
She said: "For a few moments you forget about being a nurse. It was just horror that someone could do that.
"You get used to verbal abuse, it becomes just water off a duck's back, but physical abuse is taking it further over the line."