Surrey woman jailed for false rape claim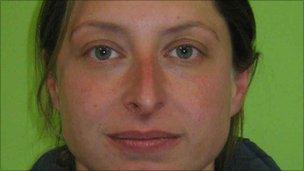 A Surrey woman who falsely claimed her ex-boyfriend raped her after giving her a Pringles sandwich laced with diazepam has been jailed for three years.
Kate Woodhead made her claim against Paul Joseph after he told her their 18-month relationship was over, Guildford Crown Court was told.
The 31-year-old, from Ripley, told police Mr Joseph had drugged her before attacking her.
She then stole belongings of his worth about £25,000.
Judge Neil Stewart said he had no option but to send her to prison.
The court heard Woodhead, who ran livery stables in Surrey, went to police with a friend in April 2009 and made the false allegation.
She then stole property including an expensive stereo and art prints, and transferred ownership of her ex-boyfriend's sports car and motorcycle to her own name.
Mr Joseph was arrested and questioned by police but the rape allegation was dropped when officers became suspicious that Woodhead had made it up.
Judge Stewart said the offences were part of a "deliberate and vindictive" campaign waged against Mr Joseph.
He added: "These offences therefore must be seen as devious and manipulative and you are wholly unrepentant."
Woodhead, of Bracken Lodge, had denied perverting the course of justice, two counts of theft and one of fraud by abuse of position, but was convicted by a jury earlier this year.
She was sentenced to a total of 12 months for the theft offences and three months for the fraud.
The sentences will run at the same time as the three-year sentence for perverting the course of justice.
Judge Stewart said the sentence was intended to act partly as a deterrent.
Speaking after the sentence, Mr Joseph, an IT consultant, said: "She stooped pretty low. I've just got to get on.
"At the end of the day, she brought it upon herself. Relationships end every day. If someone wants to walk away, you've got to respect it."
Det Con Mike Taylor said: "This was a terrible ordeal for him, costing him his home, his job and his reputation."
Related Internet Links
The BBC is not responsible for the content of external sites.