Ali G town Staines in name change proposal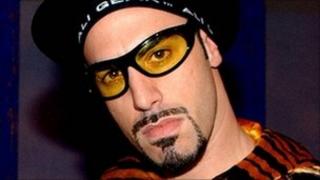 Councillors in the Surrey town of Staines, which was lampooned by Sacha Baron Cohen's comic character Ali G, are considering changing its name.
Business leaders said changing the name to Staines-on-Thames would make the town more attractive to investors.
The council said the proposal was at an early stage and would be subject to public consultation.
The Staines Town Society said the suggestion was "pretentious nonsense" and "absurd".
Comedian Sacha Baron Cohen used the town, which is in Spelthorne, for the home of his spoof rapper Ali G.
'Pompous and snobby'
Comedian and actor Bobby Davro said he was very proud to be from Staines.
He added: "It's ridiculous. Staines has always been Staines town.
"I think it's just people being pompous and snobby."
Alex Tribick, who chairs the Spelthorne Business Forum, which made the proposal, said changing the name would boost investment.
He said: "A lot of businesses are moving from central and west London out to the Spelthorne and Staines area.
"Everything we can do, even if it's a small thing like changing the name, can only be good for encouraging that business and investment in the area.
"The River Thames, as a beautiful landscape, can only encourage businesses to make that relocation for the benefit of its employees."
Colin Davis, Spelthorne Borough Council's cabinet member for economic development, said the town had a reputation it did not deserve.
He said: "The ancient and honourable name of Staines has been sullied by negligent reporting by the media on one hand and perhaps irresponsible humour on the part of others such as Ali G.
"Most people don't know where Staines is. Most people don't know it's on one of the most beautiful reaches of the River Thames."
But Anne Damerell, the secretary of the Staines Town Society said she thought the idea was "absurd" and "pretentious nonsense".
"I think if Ali G gets to hear about this, he'll have a real laugh at us doing something so silly," she said.
"Does Staines have such a bad reputation? We're just a normal place with a normal name, let's leave it at that."