Epsom High Street advice centre to help disabled people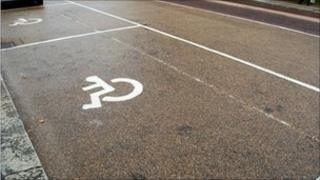 A centre offering advice to disabled people about what support or entitlements they can claim is opening in Surrey.
The Epsom Hub in Epsom High Street, which opens on Monday, will be staffed by volunteers.
It is being run as a pilot scheme and is one of four projects in the country.
Surrey County Council, the Surrey Coalition of Disabled People and other organisations made a bid to the Department of Health to take part.
'Drawing on experience'
The aim of the project is to promote disabled people's independence by helping them make more informed choices about the care and support available to them.
The volunteers, who are disabled or carers of disabled people, will draw on their own experiences to answer questions.
They have also received training on issues such as transport, benefits, services and access to mobility equipment.
Printed and online information will be available in different formats such as audio and Braille.