Young pupils given music lessons in Surrey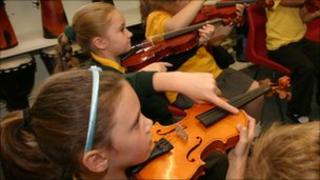 Children aged between four and six are being offered the chance to learn string instruments at Surrey schools.
Surrey Arts said the scheme would offer pupils in reception and year one the chance to take part.
Surrey County Council said the scheme was being trialled in south-east Surrey with a view to using it more widely.
Musical tuition has been linked to better performance at school. Children will develop their skills with games and toys and use smaller instruments.
The pupils, who are given the opportunity to learn cello, viola and violin, also learn how to read music during the sessions.
Alex Golden, a music teacher at Furzefield Primary school, which is taking part in the scheme, said: "The children love the interactive sessions and we're so pleased to be able to offer another opportunity for children to succeed and feel great about their learning.
"There's a real feeling of excitement round the school."
Councillor Peter Martin, cabinet spokesman for children and learning, said: "There are a variety of studies linking learning a musical instrument at an early age to strong educational attainment.
He said Surrey County Council was announcing the scheme one month after Education Secretary Michael Gove launched a review of music education.
Mr Gove had said all children should have the chance to learn an instrument and quality music education helped to improve numeracy, literacy and behaviour.