Redhill airfield sets out new plan for hard runway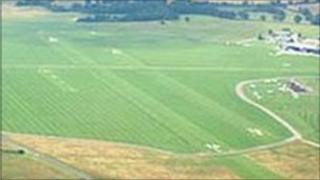 Plans to build a hard runway at a Surrey airfield to replace three existing grass runways are to go on show to the public.
Redhill Aerodrome's master plan for the controversial green belt land five miles north of Gatwick, is the latest in a series of proposed developments.
Chief Executive Jon Horne said the runway would create a modern airfield that would secure jobs at the site.
But Keep Redhill Airfield Green (KRAG) campaigners said it was not necessary.
The airfield is home to 23 businesses, including Bristow Helicopters, providing more than 300 jobs.
'Minimal change'
Redhill Aerodrome Ventures Ltd (RAVL) has made several unsuccessful planning applications since it bought the site in 1991.
Mr Horne said RAVL did not want to increase the size of the airfield, which was not subject to any planning controls on the number of flights it could operate.
With a hard runway, it hoped to return to the 100,000 movements a year common in the late 1990s.
"The scale of the change that we are seeking is minimal," he said.
"The open aspect of the green belt is not going to be altered.
"What we want to do is to create the circumstances that enable a modern airfield to operate sustainably."
Exhibition of plans
KRAG spokesman Peter Charman said the fundamental issue was development in the green belt.
"A large percentage of the aircraft movements are helicopter movements that don't require a hard runway," he said.
"I also think most of the employment there is not related to a hard runway."
An exhibition of the master plan is being held at the aerodrome on 8 and 9 October, with RAVL asking for comments from the public by 31 October.
A final version will be published by the end of this year ahead of a formal planning application.