Seized cars displayed in Surrey anti-drug campaign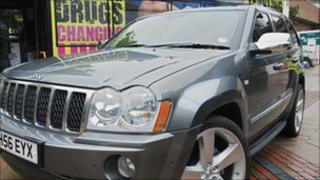 Two luxury vehicles that were seized from a convicted drug dealer will be exhibited across Surrey for two weeks as part of a drive to cut crime.
Surrey Police said the Aston Martin and Jeep Cherokee were being displayed to show that "crime doesn't pay".
They were seized after a gang leader was jailed for 18 years for conspiracy to supply drugs in 2008.
The cars will then be auctioned with the proceeds going towards anti-drug initiatives.