Surrey County Council stockpiles grit for severe winter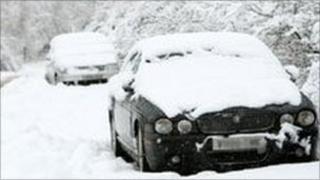 Grit supplies have been increased this year and more roads will be treated, Surrey County Council has said.
The authority has ordered 50% more salt than last year, bringing total stocks to 13,000 tonnes. It also said it would regularly grit 21 extra miles of roads.
Council leader Dr Andrew Povey has also urged residents to prepare for any severe winter weather.
"We cannot do everything. If we are supported by residents and communities, things will be much better," he said.
He said the council had enlisted the help of 27 extra farmers with ploughs, bringing the total available to 35 this winter.
Heavy snow disruption
The authority has also arranged support from the Salvation Army and the South East 4x4 Club, whose 90 volunteers use their vehicles to help people get around in harsh weather.
Dr Povey said the council had pledged an extra £1m to combat the effects of bad weather.
He said the county council had been planning for winter "for months".
Residents and communities have been urged to look out for elderly and vulnerable neighbours and clear snow from around their own properties.
Businesses have also been urged to prepare for winter in order to limit the impact of severe weather.
In one snowfall in January this year, between 35cm (14in) and 40cm (16in) of snow fell in Surrey, the Met Office said.
Heavy snow led to power cuts, and school closures, with some drivers abandoning their cars on the A3.
Surrey County Council had to limit its gritting to A roads and routes to hospitals with A&E departments, while salt stocks were replenished.