Views sought on Surrey dementia care plans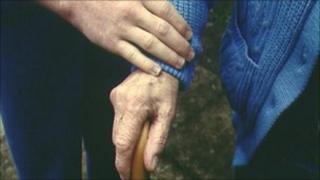 Time is running out for people to have their say on changes to adult mental health care in Surrey.
The NHS and Surrey County Council have put forward plans with less emphasis on hospital and residential care and more on care in people's homes.
A five-tier model with different levels of support for older people with dementia, depression and other illnesses has been proposed.
Surrey County Council said people had until Friday to comment on the plans.
Cabinet spokesman for adult social care, Councillor Michael Gosling, said nearly 250,000 Surrey residents would be aged over 65 by 2030.
Early diagnosis
He said: "Every one of us will come into contact with the care system at some point so it is important people contribute to the debate."
Diane Woods, associate director for mental health and learning disabilities at NHS Surrey, said mental health problems were not an inevitable consequence of getting older.
She said: "People have told us they want to remain in their own home for as long as possible, more needs to be done to tackle the stigma associated with mental health and there needs to be better home support for patients, carers and families."
She said the plans that had been put forward focused on high-quality treatment, early diagnosis and raising awareness.