CCTV appeal after Guildford serious assault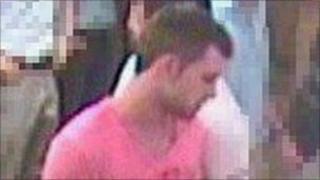 CCTV images have been released after a serious assault in Surrey which left a 24-year-old man with a head injury.
Detectives investigating the attack in Bedford Road, Guildford, on 8 August, want to speak to the man seen in the images.
Police said the victim had been in a sandwich shop with friends in the early hours before he was involved in an altercation with a group of suspects.
He was attacked outside the shop and suffered a "significant head injury".
Police said a further altercation took place outside the fast food outlet which led to the man receiving a scalp wound.
Anyone with information is asked to contact the force.