Dorking Museum receives anonymous £5,000 donation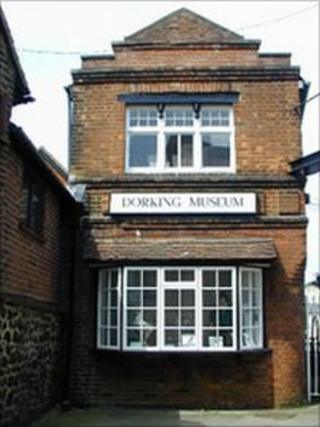 A museum in Surrey has received an anonymous donation of £5,000 after receiving a call from a woman asking for its bank details.
Kathy Atherton, chairman of Dorking Museum and Heritage Centre, said she had no idea who the money was from or why they were being so generous.
The museum, which is run by volunteers, is undergoing a major renovation and is closed to the public.
"It's such a thrill to get the money," Ms Atherton said.
She said she had received a telephone call on Saturday afternoon "from a mysterious lady" who said "don't ask me my name, because I'm not going to tell you".
Ms Atherton said she was then asked if she would be willing to accept an anonymous donation, and the money subsequently appeared in the museum's bank account on Wednesday.
She said the museum was being renovated with the help of a legacy it received from a former steward a few years ago, although fundraising for the scheme was ongoing.
"Every penny is vital. Once we've done the museum... we've also got an archive building, which is in an equally bad state."
The archives include 4,000 local photographs and postcards, rate books, and parish records.
"It's [the donation] made a real difference, and we feel that we are getting our message across that we are a worthwhile project," Ms Atherton said.