Rare paintings found in Surrey attic sold for £49,250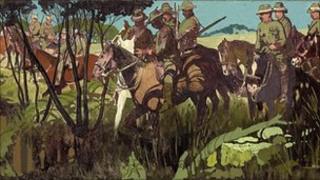 Oil paintings found when a 75-year-old Surrey woman cleared out her attic have been sold for £49,250.
The two works by Australian artist William Blamire Young had been expected to reach between £20,000 and £30,000 in the Christie's auction in London.
The woman who owned them, who has not been named, wanted to throw them in a bin but was stopped by a neighbour.
William Blamire Young is known for his watercolours, which is why the oil paintings are considered to be rare.
The artworks - Light Horse and Artillery - were painted in 1904 to celebrate the founding of the Australian army by Major General Edward Hutton, who once owned the paintings.
The woman's father bought both works 60 years ago, but they were kept in the attic because her mother did not like them.
She planned to throw them out, but first showed them to her neighbour Spencer Wright, who saw they were old and possibly valuable and contacted Christie's.
Before the auction, the woman told Christie's that all she wanted from the sale was a new TV. The auction house told her she would be able to buy a few of them.