Guildford's historic town clock damaged during 'prank'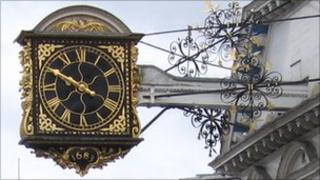 Guildford's landmark 17th Century clock has been badly damaged by someone believed to be carrying out a "prank".
Surrey Police think the culprit climbed up scaffolding outside the front of the Guildhall and wound the clock forward over the weekend.
The ornate clock, which dates from 1683 and hangs over the High Street, no longer chimes at the right time.
The force said although it was showing the correct time the internal workings had been damaged.
A specialist may now be needed to repair the timepiece.
The clock was last seen showing the right time at about 2100 BST on Friday.
Insp Tim Shaw, said: "This may have been intended as a harmless prank but it has caused significant damage to the mechanism of the clock.
"The High Street area is very busy on a Friday and Saturday night and we are hopeful that even going into the early hours someone may have seen or heard something as they made their way home."
The black and gold clock has been a feature of Guildford since 1683 when the Guildhall was refurbished.
According to the local council, a London clock maker named John Aylward presented the Corporation of Guildford with the projecting clock in return for the freedom to trade in the borough.