Warning over illegal charity collections in Tandridge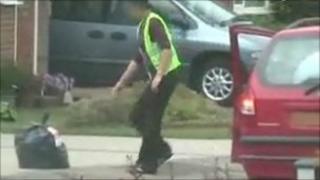 People have been warned to look out for illegal or fraudulent charity collectors in Surrey after several permits were revoked by a council.
Tandridge District Council said details of all legal charitable collections were posted on its website.
The authority said several permits had been revoked because the amount of cash given to charity was insufficient.
Councillor Tony Elias said: "Please ask any collector on the street or at your door to show you their permit."
Charities 'losing millions'
He added: "If they do not have one, it may not be a genuine collection.
"It is much better to take your goods or any donations straight to the charity shop - that way you know the charity benefits directly."
Mr Elias said charities lost millions of pounds each year because people gave money or goods to organisations which they thought were charities, but which were commercial companies collecting for profit.
Charities that want to collect in the area have to apply to Tandridge council for a permit and are vetted by the authority.
Cases where a permit is not needed include large charities which operate under a Home Office permit, and direct debit collectors because they do not collect money.