Appeal lodged over Camberley mosque plans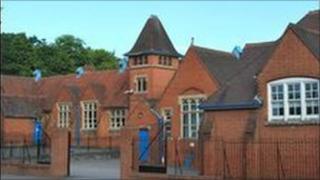 A group whose plan to build a mosque in Camberley was rejected has lodged an appeal against the decision.
The Bengali Welfare Association (BWA) has lodged an appeal with the Planning Inspectorate to build the domed mosque with minaret in London Road.
But a BWA spokesman said it still hoped to reach an "acceptable solution" with opponents of the scheme.
The plan provoked heated debate in the run-up to Surrey Heath Borough Council's decision in March.
The application that was turned down involved knocking down the listed Victorian school building, which is about half a mile from the Royal Military Academy at Sandhurst.
'Fall-back option'
Local historians and residents had argued the town's heritage must be protected and opposed the plans.
The BWA argued that the building no longer met the needs of the growing local Muslim community.
Abdul Chowdhury, a spokesman for the BWA, said: "Our community is in desperate need for improved facilities and whilst we are confident that a mutually acceptable solution can be achieved, we still need a fall-back option, hence the appeal."
More than 350 people packed into Camberley Theatre in March ahead of the council's decision.
Following the meeting, Nahrni Choudhury, who spoke at the meeting on behalf of the BWA, accused some of the campaigners of racism.
Last month, an informal meeting was held for people in the community to explore how relationships could be mended.
The building was originally home to Yorktown Infants and Primary schools, before becoming St Gregory's Roman Catholic school.
When the school closed, the building was sold to the Berkshire, Hampshire & Surrey Bengali Welfare Association (BWA), which has been using it as an Islamic centre since 1996.
A spokesman for the campaign group against the plans said it would not comment until details of the appeal became clearer.