Redhill house burglar steals bacon from fridge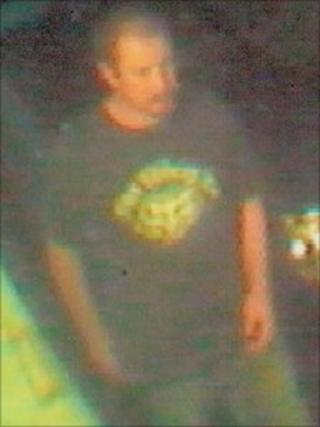 A man who broke into a house and stole bacon from the fridge before leaving a rasher on a door handle is being sought by police.
Surrey Police said the thief, who also took a telephone, broke into a house in Redhill early on Saturday while the occupants were asleep upstairs.
Det Con Julian Knowles said the victims were "at a loss" to understand why someone would take a packet of bacon.
Police have released a CCTV image of a man they want to trace after the theft.
'Potentially peckish'
Det Con Knowles said: "This is a very peculiar burglary as the suspect placed a rasher of bacon over a door handle before leaving the property.
"The victims are at a loss to understand why someone would break in to their house and steal a packet of bacon and we are equally stumped as to who this potentially peckish suspect is."
Appealing for information, he said the break-in happened between 0250 BST and 0340 BST.
There was no damage to the house and the stolen telephone was later recovered.
The suspect was described as white, with short dark hair and a moustache, wearing a dark T-shirt with a white motif, and dark trousers.