British men drown in sea off Costa Tropical in Spain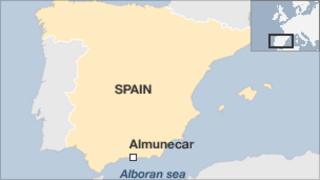 A son is thought to have drowned after going to the aid of his father, who also died, while the pair were swimming in the sea off Spain's Costa Tropical.
Robert Clifford Wells, 75, and Jonathan James Wells, 45, believed to be a father and son from Surrey, died near a popular beach at Almunecar, on Tuesday.
Robert Wells is thought to have got into difficulties in waves several metres high. Jonathan went to his aid.
Both men were from Cobham. The Foreign Office said next of kin had been told.
The incident sparked a rescue bid at about 1600 BST at the beach in the province of Granada.
The Spanish press has reported that Jesus Balderas, 25, told local reporters he had tried to save the men but realised it was "almost impossible".
'Bodies found floating'
He was quoted as saying: "The first person to enter the water was the older man, who was drowning, and then the younger man went in to save him and neither came back out.
"I went in to help them but the older man was already injured but I saw he wasn't calling for help or anything."
A spokesman for the local police service said the the men's bodies were found floating in the sea off Almunecar.
He said a Almunecar Civil Protection boat had been launched but the pair could not be saved.
A spokeswoman for the local emergency services said: "We received a call at 4pm (local time) yesterday from someone who told us that first one and then two people were in the sea and were unable to get out.
"We dispatched emergency services to the scene and the Almunecar Civil Protection later told us two people had died.
"Eyewitnesses on the beach told us that a third person had gone into the sea to try and rescue them but he could not reach them."
A spokesman for the Foreign Office said: "We can confirm the death of the two British nationals in the region of Granada on 7th September.
"Next of kin are aware and we are providing consular assistance to the family."