Virtual car 'to prevent crashes' in east Surrey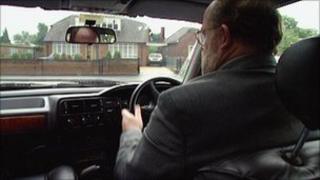 A driving simulator is being used by Surrey fire crews to help people become safer on the roads.
It has been bought by Reigate and Banstead Community Safety Partnership and will be taken to schools, festivals and community events in east Surrey.
People of all ages will be able to use the virtual car to test driving skills in a series of scenarios which include drink-driving and motorway modes.
Those using the simulator face a screen and use pedals and a steering wheel.
Paul Otway, from Surrey Fire and Rescue Service, said: "We're always ready to rescue people involved in collisions but we would much rather help prevent them and the new driving simulator will help us do this."
Reigate councillor Steve Farrer, cabinet member for enforcement, added: "Many accidents on our roads are preventable.
"This driving simulator will illustrate and emphasise the dangers of drinking and driving, as well as how speeding impairs judgement and reaction times."
Surrey County Council said that fire crews across the whole county were last year called to as many road crashes as property fires.