Surrey sees wave of measles cases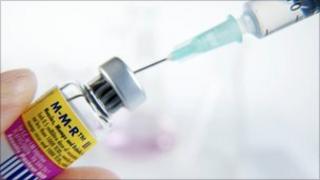 A wave of measles cases in Surrey has led to the launch of a film to raise awareness of the disease and the MMR vaccine, which protects against it.
NHS Surrey said that last year only 64% of children in the county had received the recommended two doses of MMR by their 5th birthday.
The number of measles cases in Surrey rose from 101 in 2007 to 276 in 2009.
The film, on the NHS Surrey website and YouTube, features a teenage boy who became seriously ill with measles.
The boy is from a traveller community, which has also been affected by the outbreaks of measles.
Increase in uptake
"The outbreaks we have seen in Surrey over the past few weeks have been particularly worrying because of the number of people who have become unwell and the severity of the cases, with some young people being very ill in hospital," said public health consultant Dr Hermione Lovel.
"Staff from Surrey Community Health and local GP practices have done an excellent job working with local communities to raise awareness about the symptoms to look out for, where to get help and the protection the MMR vaccine offers.
"These efforts have definitely paid off and we've seen a real increase in uptake of the vaccine in local communities."
The idea for the film came from within the traveller community via Surrey County council's "Gypsy skills" youth education project.
The Department of Health has said 95% of the population needs to be vaccinated against measles to prevent outbreaks.