Runnymede council calls Magna Carta bank holiday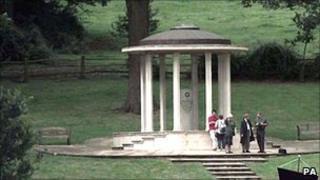 A council has called for a bank holiday to mark the 800th anniversary of the sealing of Magna Carta in Surrey.
Runnymede Borough Council is considering several initiatives to mark the event in June 2015, including setting up an education centre.
Council chief executive Paul Turrell said the international significance of the document made it an event that could be celebrated all over the world.
King John signed Magna Carta at Runnymede Meadow, near Egham, in 1215.
'Great benefit'
Mr Turrell said a local committee was working on several initiatives and was hoping to get royal patronage to support the proposal for a bank holiday.
He said: "We're looking at making June 2015 a very special occasion, perhaps over two or three months leading up to June 2015, but we're also looking at a legacy."
He said an education or interpretation centre would demonstrate the significance of Magna Carta, which had been influential across the English-speaking world.
Mr Turrell said it was hoped both the celebrations and legacy could also bring an economic boost.
He said: "I think it's something which would be a great benefit to business.
"And the international significance of Magna Carta would perhaps give us that opportunity to say here's a bank holiday which we can celebrate with people all over the world."
He added: "We're very much at the ideas stage at the moment, but although 2015 may seem a long way away, we need to start preparing now."
Mr Turrell said the council was hoping to "crystallise" ideas early in 2011.
Runnymede councillor Alan Alderson said it had not yet been decided whether the holiday should be a one-off or an annual event, but a yearly holiday would be an annual reminder to people of the importance of Magna Carta.
Barons in revolt
Copies of Magna Carta, which forms part of the common law of England, are held at the British Library and at Salisbury and Lincoln cathedrals.
It formed a peace treaty between King John and barons who were in revolt.
Its opening chapter guaranteed the rights of the Church, and a further 15 were designed to curb the king's exploitation of loopholes in feudal custom.
Ten further chapters dealt with finances, while another section confirmed people's rights under common law.
The common law section was seen as crucial because it subjected the king to the law of the land for the first time in Britain's history.