Joe Cole avoids an immediate ban for speeding in Surrey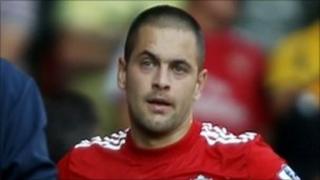 England and Liverpool footballer Joe Cole avoided an immediate driving ban for speeding at 105mph after his solicitor launched an appeal.
Cole, 28, who denied the charge, was disqualified for 50 days and fined £750 at Staines Magistrates' Court.
The footballer was caught speeding on a 70mph section of road in Claygate, Surrey, in November 2009.
His appeal centres on a claim his wife is scared to drive after being the victim of a carjacking.
Cole, who was not in court on Friday, was also ordered to pay £600 costs.
Chairman of the Bench John Neary agreed to suspend the sentence while the appeal is heard.
'Thugs on motorbikes'
Cole's lawyer Nick Freeman said the footballer's wife, Carly Zucker, had recently been left so traumatised by a carjacking outside their Chelsea home that she had been unable to get behind the wheel.
He added: "His wife was outside their house in London when she was carjacked by eight thugs who were on motorbikes. She was physically removed from the car.
"The car was stolen and it has not yet been recovered. She is 26 and has been severely traumatised by this incident to the extent that she has not driven a car since."
Mr Freeman also said Ms Zucker and her five-month-old baby would not be able to use public transport if Cole was banned because of their high profile.
Police are still looking for the black Audi A4 which was stolen almost two weeks ago.
The footballer, who already had six points on his licence, was found guilty of speeding earlier this month.
Andrew Mitchell, who has since retired from Surrey Police, used the laser speed gun that recorded the incident on 19 November last year when Cole, who was a member of England's World Cup squad, was still playing for Chelsea.
The court was shown a recording of the incident which showed Cole apparently smiling as he passed the police officer.
Cole was not pulled over but was sent a notice of the speeding offence in the post by Surrey Police.