Missing Surrey man last seen at parents' Camberley home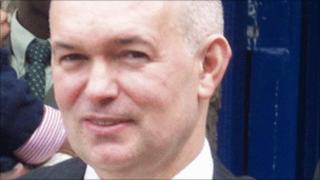 Concern has been raised for the welfare of a 49-year-old man from Surrey who has been missing for nearly a month.
Steven Yeomans, of Watchetts Road, Camberley, was last seen at 1500 BST on 3 August at his parents' home in Rapley Close, in the town's Old Dean area.
Police said he was expected home at 1800 BST that day but has not been seen or heard from since.
It is believed he may have returned to his parents' home either late at night on 8 August, or early the next day.
Mr Yeomans is described as white, 5ft 5in tall, of medium build with grey, receding, near shaved hair.
He has brown eyes, a fair complexion and is clean shaven, and is known to regularly wear three-quarter length crop trousers in grey or blue and a striped polo style T-shirt.