Conan Doyles in call to minister over Undershaw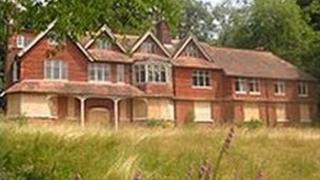 Descendants of Sir Arthur Conan Doyle have called on the culture secretary to help stop the author's former home in Surrey being converted into flats.
His great-great-nephews, Joshua and Oliver Conan Doyle, are among 44 supporters of the property, Undershaw, who have written to Jeremy Hunt.
Waverley Borough Council granted planning permission in June for conversion of the house, at Hindhead.
Mr Hunt, whose constituency includes Hindhead, was unavailable for comment.
However, the MP for South West Surrey has previously expressed his disappointment that planning permission was granted for Grade-II listed Undershaw.
Uri Geller
The Sherlock Holmes author built the property 1897 and it was where he wrote some of his best-known works, including The Hound of the Baskervilles.
The future of the building has been in doubt since 2004 when a hotel which occupied it closed.
Campaigners and historians fought to keep it as a single building or have it restored as a museum but developer Fossway was eventually granted planning permission.
Under the plans, the main house will be converted into three homes and a second wing will be built to provide five town houses.
The signatories of an open letter to Mr Hunt also include entertainer Uri Geller and the former head of the Arts Council of England, Sir Christopher Frayling.
In it, they call on Mr Hunt to review the decision to permit the redevelopment of Undershaw.
They say that before the general election in May, he indicated that he would support a change of listing for Undershaw to give it better protection.
They say they now want him to work closely with the council to find a more acceptable solution to preserve the building.
In a statement on 14 June, Mr Hunt said he backed supporters who were seeking listed status for the stable and well in the grounds which were under threat in the plans.
He said: "I am disappointed that the house will not be kept as it is. Undershaw is an important part of Hindhead and of historic significance.
"I hope the supporters will get listed status for certain parts of the house and hope that this will help preserve some of this extremely valuable building which means so much to Conan Doyle fans and local residents."