Guildford tourist centre to move to gallery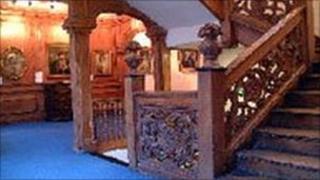 Guildford's tourist information centre is to move in with the borough's art collection, housed in the 17th century Guildford House.
The move from its present home in Tunsgate to the High Street gallery is likely to take place next spring.
"Locating the tourist information centre and Guildford House Gallery together will strengthen both services," said Councillor Jen Powell.
"It will give a real boost to our tourist economy."
Cost savings
Grade I-listed Guildford House was built in 1660 and became home to the art collection in 1959. It currently has 100,000 visitors a year.
"With this move we aim to substantially increase visitor numbers and provide cost savings," said Ms Powell.
The council looked at a number of options for locating the tourist centre and gallery together, including moving both to a property at 170 High Street.
Councillors were told the estimated £620,000 cost of refurbishing 170 High Street was not considered financially viable at a meeting on Thursday.
They approved the £160,000 budget for rebuilding at Guildford House to accommodate the tourist centre
The council will give up its lease on the Tunsgate premises and advertise 170 High Street for sale or rent.