Suffolk PCC to review cannabis farm reports after Ipswich fire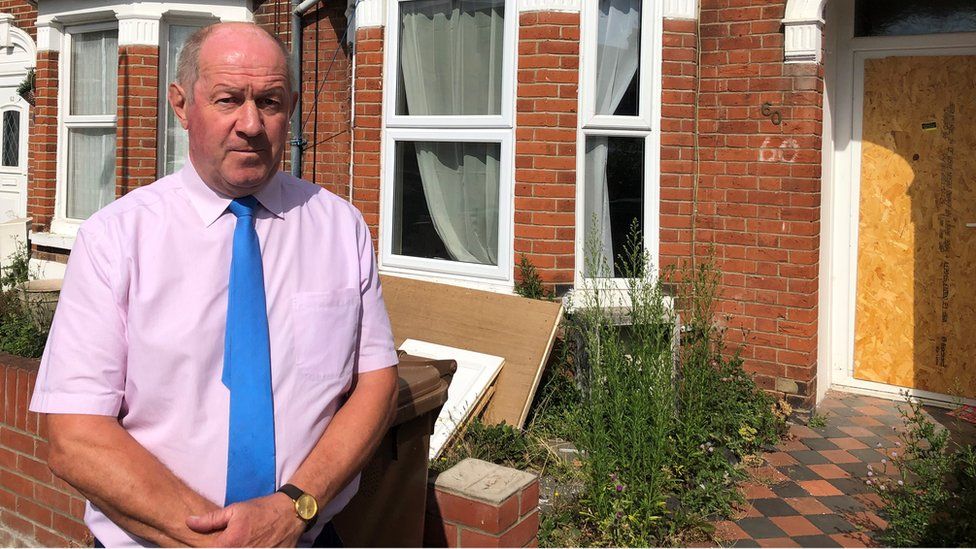 The police and crime commissioner for Suffolk said he would review how police officers responded to reports of suspected cannabis farms after a fire.
Several homes were damaged in the blaze on Kitchener Road in Ipswich on 29 May.
Suffolk Police said it did "everything that was reasonable and proportionate".
Flames broke out at the terraced house just before 22:30 BST.
Police said a large number of suspected cannabis plants and growing equipment were recovered from inside.
It later emerged three anonymous calls were made to the force about the alleged cannabis farm before the fire.
Alison and Greg, whose home was destroyed in the blaze, claim officers did not do enough to investigate the case.
Greg said: "They could've knocked on other doors... If they had knocked on the next door house, they would have heard it.
"They didn't investigate, they said there wasn't enough evidence but they need to find that evidence, it's frustrating."
The couple said they were not back in their home and they had not heard from Suffolk Police since the incident.
Tim Passmore, Suffolk's Police and Crime Commissioner, said he was not sure if police forces had the "right protocols" for dealing with suspected cannabis farms in homes.
"Here, with the terraced houses that were damaged, that's so devastating and we need to make sure when there are early suggestions of things like this... are backed up," he said.
'Reasonable and proportionate'
Insp Matt Breeze, from Suffolk Police, the "considerable efforts" officers went to "were more than knocking on doors".
However, he said: "We need to reach a fairly high threshold for us to gain access to an address. On this occasion it's just unfortunate that we didn't get that required evidence."
He added: "I have reviewed it and I'm of the view that we did everything that was reasonable and proportionate."
Insp Breeze said progress was being made with the investigation and he has asked officers to make contact with those affected.
Related Internet Links
The BBC is not responsible for the content of external sites.