Sutton Heath: Death of soldier, 20, to be investigated by police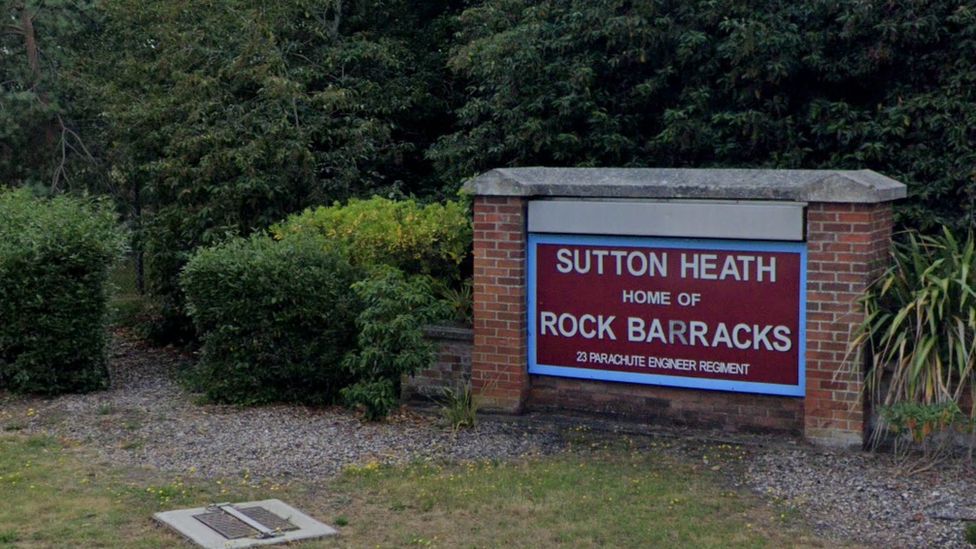 The death of a young soldier is to be investigated by police, the Ministry of Defence (MOD) has confirmed.
Sapper Connor Morrison, 20, of 23 Parachute Engineer Regiment, stationed in Woodbridge, Suffolk, died in Ipswich Hospital on 23 July.
He is reported to have collapsed during hot weather at Rock Barracks in Sutton Heath, on 21 July.
The Health and Safety Executive (HSE), Defence Safety Authority and Suffolk Police are investigating.
An air ambulance, land ambulance and ambulance officer vehicle attended after Sapper Morrison suffered breathing difficulties, the East of England Ambulance Service NHS Trust (EEAST) said.
Two days before, a new UK record high temperature of 40.3C was recorded in Coningsby, Lincolnshire.
Sapper Morrison was based at Rock Barracks near Woodbridge, the home of the Royal Engineers since 2006.
His former cadet unit in Scotland, the West Lowland Battalion Army Cadet Force, described him as a "shining example".
"The Battalion were saddened to hear of the tragic passing of former Balaklava Cadet CSM Connor Morrison," the unit said on Facebook.
"Connor was a well liked and respected young man who had been member of our Erskine detachment for five years, leaving in 2020.
"He will be sorely missed."
In a statement, the MOD said its thoughts were with Sapper Morrison's family.
A Suffolk Police spokesman said: "We received a report from the ambulance service on July 21 reporting a male had collapsed in the Sutton area near to Woodbridge."
A HSE spokesman said the authority was "aware of the incident and making inquiries."
An inquest will be held at a later date.
Related Internet Links
The BBC is not responsible for the content of external sites.