Suffolk farmers warn of cuts to production as costs increase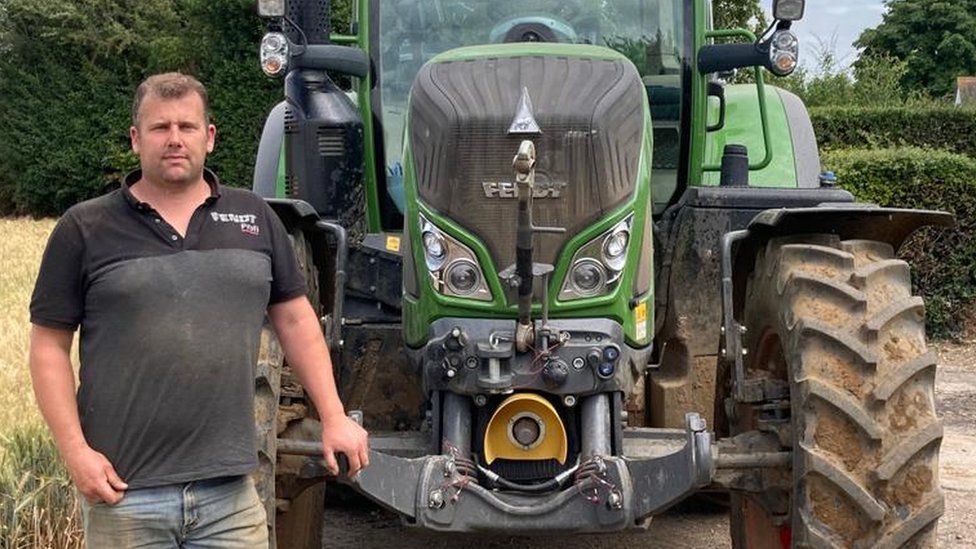 Farmers have said rising costs mean they will have to cut back on production which will have a knock-on effect for customers.
The National Farmers' Union (NFU) said a third of arable farmers were now cutting back on producing crops.
Russell Abbott, from Cragg Pitt Farm in Tattingstone, Suffolk, said costs "have gone absolutely and completely through the roof".
Fuel, animal feed, fertiliser and energy have all seen unprecedented price rises in recent months, in part due to Russia's invasion of Ukraine.
The NFU surveyed 610 dairy farmers and 525 arable farmers, finding many were forced to cut back on their food production and use less fertiliser.
Mr Abbott, who produces vegetables, wheat, barley, oilseed rape and potatoes, said farming had "changed a lot" in the last year.
"Diesel this time last year was 52p per litre, this year its £1.20 and this is red diesel which is only used for agricultural purposes," he said.
The farmer described the price of fertiliser as "absolutely bonkers", with one type more than trebling in price.
Mr Abbott said he was "cutting tasks out, doing less ploughing, less cultivation, using less water, less fertiliser" and considering not growing any winter crops of barley at all.
Jonny Crickmore, from Fen Farm Dairy in Bungay, said there were "increased costs of production".
The diary produces its own cheese and, he said, "diversifying and adding value to the product you make helps in these challenging times".
But he added: "Feed, fertiliser and fuel, all of those have jumped up in the last three or four months and the milk price isn't going up with the cost of production.
"The volume of milk in the UK will decrease which means prices will rise."
A spokesperson from the Department for Environment, Food & Rural Affairs (Defra) said it had taken steps to support farmers with the availability of fertiliser.
"We have announced that we will bring forward 50% of the Basic Payment Scheme payment to July to help ease cash flow pressures," they said.
The government has also announced an additional 10,000 visas for the seasonal workers route, they added.
Related Internet Links
The BBC is not responsible for the content of external sites.