Thorington: The 'bomb crater' that created a theatre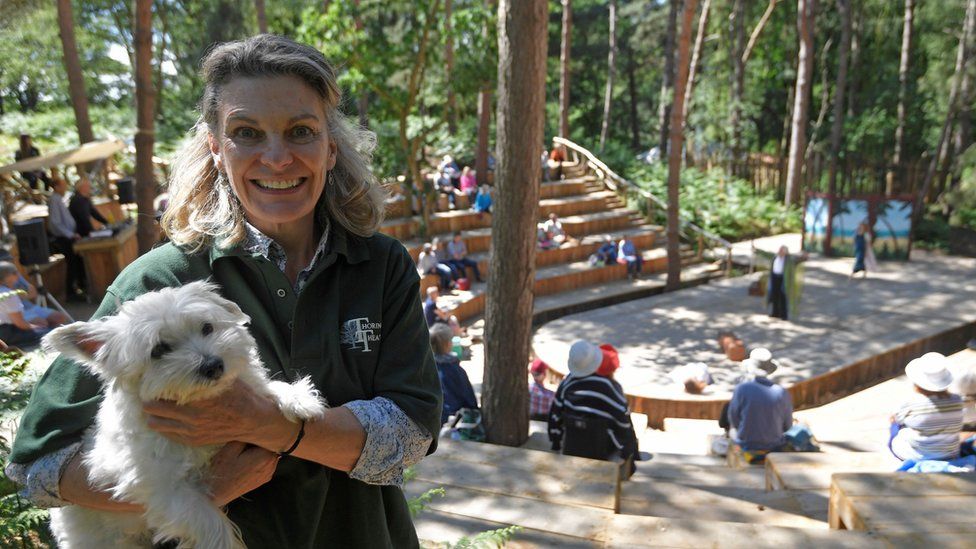 An open air theatre built in a large crater during Covid restrictions hopes it can make profit in about four years.
Thorington Theatre in Suffolk was created in a bowl in the earth, thought to have originated during World War Two, by clearing pine trees and using local wood to create an amphitheatre.
"Profit was not the driving force - as long as it's not a drain on the farm, we're happy," said owner Lindy O'Hare.
It was believed the crater was a result of German pilots unloading bombs.
Lindy O'Hare and her husband moved to their farm, just off the A12 near Saxmundham, five years ago and grow organic chestnuts and walnuts.
"The previous owner had also had the idea - when you saw the crater it was obvious it was an amphitheatre," she said.
"We thought it would be a bit of a folly at first; there was no grand business plan on our part."
The stage and seating for 350 people was built by clearing some pine trees, and utilising others in the design.
A local children's company gave the first performance there - of Shakespeare's A Midsummer Night's Dream - last year.
"These 40 children had the time of their lives and then other theatre companies starting coming to us wanting to perform," said Ms O'Hare.
"Last year was just anticipation and excitement, whereas this year there's now a weight of responsibility as well."
Although there are no official records of whether a bomb was dropped at Thorington, the theatre owners said the age of the pine trees in the crater suggested they started growing just after World War Two.
Local historian Simon Loftus, who has lived in the area all his life, said: "There are certainly a lot of bomb craters in this part of east Suffolk - Lowestoft, Southwold or Ipswich were targets either for military purposes, or just to terrorise and demoralise the local population.
"The German bombers would also be returning from London raids, be intercepted by British planes and would ditch their bombs over East Anglia to be lighter.
"The Thorington crater is almost certainly another example."
Lincolnshire's A Certain Demographic is one theatre company coming to Thorington this summer - with a new version of Milton's Paradise Lost on Saturday, 25 June.
Writer and director Ian Sharp said they heard about Thorington on the theatre grapevine, because it was built when "people were apprehensive about indoor theatres due to Covid and it got a good reputation very quickly".
"We describe our Milton as a 'yomp through the Garden of Eden' and this idyllic venue is a theatrical Eden," he said.
Other shows this summer include classics such as Pygmalion and HMS Pinafore, a children's show about local heroine Boudica, and music from guitarist John Etheridge and James Righton of the Klaxons.
Lindy O'Hare said it had cost £60-70,000 to create the venue.
"I am sometimes in complete awe that we've brought this to fruition and we can really press ahead now that we seem to be through the worst of the pandemic," she said.
"Some shows have turned a profit, but it will be at least four years before we do so as a business."
Related Internet Links
The BBC is not responsible for the content of external sites.