Sue Gray report: Ipswich people respond to 'Partygate' findings
By Kate Scotter & Amelia Reynolds
BBC News, East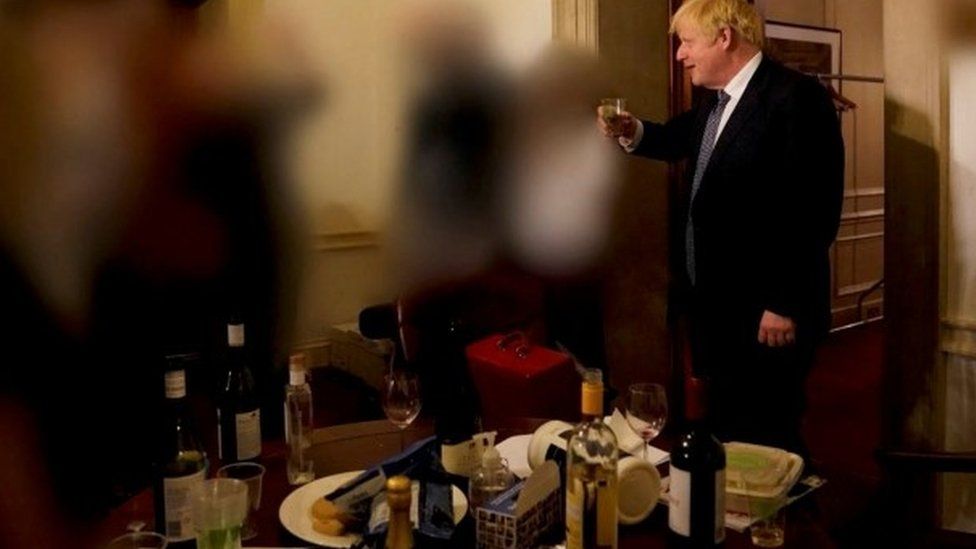 A report by the senior civil servant Sue Gray has been published in full, stating many of the events at Downing Street "should not have been allowed to happen" and were "not in line with Covid guidance at the time".
Boris Johnson apologised during Prime Minister's Questions and said he took "full responsibility for everything that took place on my watch".
Since 2015, the Suffolk town of Ipswich has oscillated from Conservative, to Labour and back to Tory in recent general elections. Its current MP is Tom Hunt who won in 2019 with a 5,479 vote majority.
In the wake of Ms Gray's report, what do people in the town make of her findings and what do they think should happen next?
'We want to put Covid behind us'
"This country needs to move forward," says Catherine Kersey.
Speaking to the BBC on the Buttermarket in Ipswich, she tells how her mother died of Covid.
Ms Kersey says she was not allowed to be with her mother when she died.
"My mum didn't die because Boris went to a few parties," she adds.
Ms Kersey's father died four weeks after her mother. Ms Kersey believes it was due to "shock".
"Our whole family went through hell but I'm still not angry with Boris over this - let it go, move on, we want to put Covid behind us," she says.
"The main thing is that this isn't important enough [compared] with everything else going on in the world.
"This country needs to move forward," she says. "There are things happening in Ukraine, there are things happening in Taiwan.
"Those things are far more important now than to be worrying about Boris holding up his glass and having a few drinks.
"It was his birthday for heaven's sake. The man nearly died with Covid himself - it's high time this was finished with now."
'People it's affected most won't forget about it'
Ellie Copping, however, says it is not so easy to forget and move forward.
"It's too little too late," she says. "It's affected people, people living in care homes and stuff like that didn't get to see their families, didn't get to say goodbye and thousands of women have gone unsupported throughout pregnancies and took appointments by themselves every day.
She says she had to attend all of her medical appointments alone when she was pregnant with her son. These appointments included electroencephalogram (EEG) and magnetic resonance imaging (MRI) scans.
"As time goes on," she says, "it's become something they've done and it's been pushed aside and forgotten about.
"But at the end of the day the people it's affected most won't forget about it," she adds.
'I don't think he should be the prime minister'
Niaz Miah is also disappointed with the prime minister.
"He shouldn't be doing that stuff and expecting us to follow the rules," he says.
"Everyone was affected during lockdown and if he's not following the guidelines himself, he can't expect us to follow them."
He says he "doesn't really" trust Mr Johnson now.
"I don't think he knows what he's doing right now so I don't think he should be the prime minister in my opinion."
'People forget the good things the PM has done'
But Susan Williamston says the prime minister is "straight-talking" and "got the vaccines for all of us".
"People forget the good things he's done because of this," she says.
She thinks the Conservative Party should give Mr Johnson "another chance".
"He's a bad boy at the moment," she says, "but he could do something really amazing and then be on the up again.
"I think he's the right man for the job."
She says she was very fond of former prime minister Margaret Thatcher and found her removal from power "very disappointing".
Ms Williamston says it is time to move on.
'I admire Boris Johnson as much as I did Churchill'
Members of the Ipswich Central Conservative Club are also standing by the prime minister.
"I've got plenty of admiration for him," says Pip Bath. "He's worked hard.
"I know he's done wrong but everybody knows that, I just think a lot of people suffered but we've got to call it a day now and let him get on with his job."
Gillian Watson says she feels "sorry for him".
The photographs published in Ms Gray's report do not make Barbara Rushbrook angry.
"If truth was known, a lot of people were also drinking and meeting up," she says.
"I know we're talking about the prime minister but he's a human being, the same as us.
"I admire Boris Johnson as much as I did Churchill. He's the only prime minister apart from Churchill who has come in and had to put up with what's been going on."
'The country needs stability'
If Mr Johnson were to go, who would replace him?
That question, says Trevor Lord, is not an easy one to answer.
"I don't know who [would] take his place," he says.
"We're facing major local and international, problems, which may get worse if China starts flexing its muscles, and I think this is a time when we need stability, we need somebody who can really take charge.
"At the moment, I really can't think who would fit into the position from within the Conservative Party and I really don't think it would help us at all to go to a general election because I don't have a lot of confidence in the alternatives."